Dimensia MTR120 Audio Cassette Recorder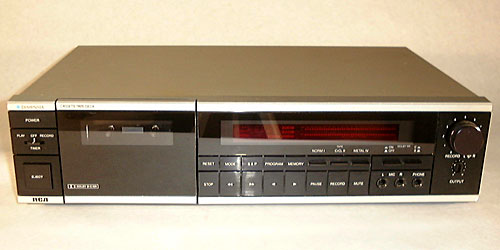 Notes:
In 1985, RCA introduced the Digital Command Component series. The fundamental component of this "RCA Audio System" is the MSR140 Stereo Receiver, which provides system control functionality for audio components only, with no need to purchase a Dimensia television. This Digital Command Component series includes the MTR115 as well as the MTR118 Audio Cassette Deck, which is identical to the MTR120 except for the styling of the unit.
In 1987 the MTR225 Dual Cassette Deck replaced the single cassette MTR120 in the Dimensia line.
Specifications:
Track System:
4 track 2 channel stereo
Tape:
Cassette tape
Tape Speed:
4.75 cm/s
Recording System and Bias Frequency:
AC Bias, 85 KHz
Erasing System:
AC erase
Erase Ratio:
60 dB (at 1 KHz) or more
Frequency Response:
NORM-I: 20 Hz to 16 KHz; 40 Hz to 16 KHz (+/- 3 dB)
CrO2-II: 20 Hz to 18 KHz; 40 Hz to 17 KHz (+/- 3 dB)
Metal-IV: 20 Hz to 19 KHz; 40 Hz to 18 KHz (+/- 3 dB)
S/N (Signal to Noise Ratio)
(A weighted, Reference 3% T.H.D. Metal):
Dolby NR OFF: 59 dB
Dolby NR B ON: 68 dB
Dolby NR C ON: 74 dB
Wow and Flutter:
0.06% (WRMS)
Input Sensitivity and Impedance:
Microphone: 0.4 mV (Suitable microphone impedance 500 Ohms to 5 kOhms)
Line In: 55 mV, 200 kOhms or more
Output Level and Load Impedance:
Line Out: 500 mV (Suitable load impedance 50 kOhms or more)
Headphone: 80 mV (8 Ohms) (Suitable load impedance 8 Ohms to 2 kOhms)
Distortion:
Less than 1% (1 KHz, 160 nWb/m)
Crosstalk:
60 dB (at 1 KHz) or more
Power Source:
120 Volts, 60 Hz
Power Consumption:
25 Watts
Dimensions:
17.1" x 4.5" x 11.1"
Weight:
10.0 lbs.