Dimensia MTT130 Phonograph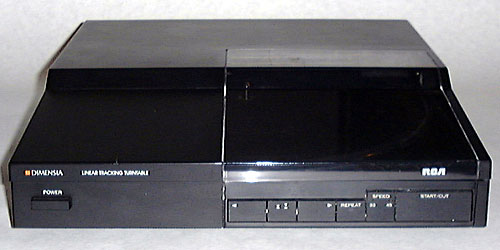 Notes:
In 1985, RCA introduced the Digital Command Component series. The fundamental component of this "RCA Audio System" is the MSR140 Stereo Receiver, which provides system control functionality for audio components only, with no need to purchase a Dimensia television. This Digital Command Component series includes the MTT131 Linear Tracking Turntable, which is identical to the MTT130 except for the lack of the Dimensia name on the unit.
Also in 1985, RCA introduced the MTT135 Front-load Linear Tracking Turntable for the Dimensia system.
In 1987 RCA introduced the MTT230 Top-load Linear Tracking Turntable to replace the earlier units.
Specifications:
Platter Drive:
Direct drive by brushless DC servo motor controlled by crystal oscillator and phase-locked loop
Platter:
11.6" diameter die-cast aluminum alloy
Speeds:
33 1/3 and 45 RPM, automatically switched for record size, with manual override
Speed Deviation:
0.003%
Time Drift:
0.003% per hour
Temperature Drift:
0.003% from 41 to 85 F
Signal-to-Noise (S/N) Ratio:
78 dB (DIN-B)
Wow and Flutter:
0.025% (WRMS)
Tonearm Type:
Linear tracking, gimbal supported
Tonearm Effective Length:
3 3/4 inches, approx.
Tracking Error:
+ 0.1 degree
Lead-wire Capacitance:
140 pF
Cartridge Type:
Dual magnet
Stylus Material:
Diamond
Frequency Range:
10 Hz to 25 KHz
Output Voltage:
3.5 mV @ 1000 Hz
Channel Difference:
1 dB @ 1000 Hz
Channel Separation:
23 dB @ 1000 Hz
Tracking Force:
1.25 gram +/- 0.25 gram
Cartridge Weight:
5.9 grams
Power Source:
120 Volts, 60 Hz
Power Consumption:
15 Watts
Dimensions:
10.8" x 3.2" x 12.4"
Weight:
10.0 lbs.