Dimensia MSA100 Audio Amplifier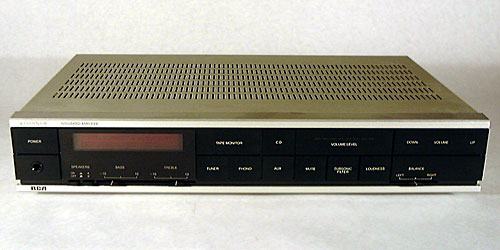 Notes:
In 1985 the MSA200 Amplifier became available, which has the same styling as the MSA100 but is in a larger chassis providing 100 Watts RMS per channel, plus compatibility with the MGE160 Graphic Equalizer.
Also in 1985, RCA introduced the Digital Command Component series. The fundamental component of this "RCA Audio System" is the MSR140 Stereo Receiver, which provides system control functionality for audio components only. The MSR140 has an AM/FM tuner and 5-band graphic equalizer built into the unit.
In 1987 the MPA100 (100 Watts/channel) and MPA120 (120 Watts/channel) Amplifiers replaced the MSA100 and MSA200 units.
Related components in the 1987 Dimensia system include the MSR250 A/V Receiver (providing 50 Watts/channel amplifier, AM/FM tuner, 5-band graphic equalizer, and Dimensia system control), the MPT200 A/V Control Center (providing AM/FM tuner, audio loop for external graphic equalizer or surround sound processor, and Dimensia system control), and the MSP400 Dolby Surround Sound Processor (providing 30 Watts/channel amplifier and Dolby surround sound).
Specifications:
Power Output:
50 Watts RMS per channel into 8 Ohm loads
Harmonic Distortion:
Less than 0.05% at one-half rated output into 8 Ohm loads
Intermodulation Distortion:
Less than 0.05% at one-half rated output
Power Bandwidth:
10 Hz to 40 KHz with 50% of rated outputs into 8 Ohm loads and 0.05% THD
Frequency Response:
20 Hz to 20 KHz (+/- 2 dB)
Input Sensitivity and Impedance:
Phono: 3.0 mV at 47 kOhms
Others: 160 mV at 40 kOhms
Output Level from Tape Recorder Jack:
160 mV
Phono Overload Level:
150 mV (1 KHz)
Signal-to-Noise (S/N) Ratio:
Phono: 72 dB (IHF, A network).
Others: 98 dB (IHF, A network)
Bass Control:
+/- 8 dB @ 100 Hz
Treble Control:
+/- 8 dB @ 10 KHz
Subsonic Filter:
- 6 dB per octave @ 20 Hz
Power Source:
120 Volts, 60 Hz
Power Consumption:
180 Watts at 1/3 rated output
Dimensions:
17.1" x 3.3" x 11.1"
Weight:
12.3 lbs.