Toshiba VP100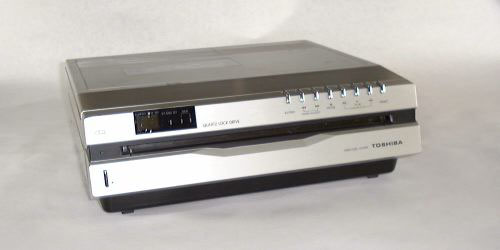 Notes:
Has back-panel jack for optional Toshiba DSA100 Stereo/Dual Audio Adapter.
2.5xF Visual Search remains on until PLAY button is pushed.
The only production CED player with a transparent window through which the disc can be seen.
Page Mode entered by simultaneously depressing both visual search buttons.
Wired Remote Control model no. RM100 was included with the player.
Year Introduced: 1981
OEM Equivalent: N/A
Sound: Monaural (see Notes)
Dual Audio: No (see Notes)
Outputs: RF & A/V
Remote Control: 6-button Wired
Visual Search: 2.5xF, 12xF/R
Blanked Search: 180xF/R
Pause: Yes
Time Display: Digital
Side Display: Yes
Page Mode: Yes
Page Advance: No
Repeat Mode: No
Screen Display: No
Turntable: Belt Driven
Turntable Timing: Quartz
Stylus Sweep: Load
Motorized Load: No
Video Standard: NTSC
Power Source: 120V, 60Hz
Power Consumption: 27W
Dimensions: 16.0" x 5.3" x 15.7"
Weight: 21 lbs.