Sears 934.54811350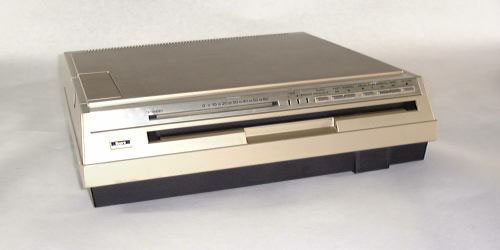 Notes:
Automatically senses Dual Audio Discs and allows channel toggling via front panel.
This player lacks the remote control jack present on the Hitachi VIP2000R OEM Equivalent.
Page Mode entered by simultaneously depressing both 16x visual search buttons.
Year Introduced: 1983
OEM Equivalent: Hitachi VIP2000R
Sound: Stereo
Dual Audio: Auto
Outputs: RF & A/V
Remote Control: No
Visual Search: 4xF/R, 16xF/R, 120xF/R
Blanked Search: No
Pause: Yes
Time Display: Analog
Side Display: Yes
Page Mode: Yes
Page Advance: Yes
Repeat Mode: No
Screen Display: No
Turntable: Direct Drive
Turntable Timing: Quartz
Stylus Sweep: Load
Motorized Load: No
Video Standard: NTSC
Power Source: 120V, 60Hz
Power Consumption: 22W
Dimensions: 16.7" x 4.6" x 16.6"
Weight: 13 lbs.