Sears 934.54800250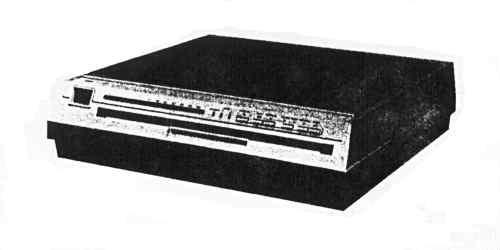 Notes:
Manual Dual Audio controlled with push-button switch on lower front panel.
This model has a digital time display absent on the Hitachi VIP2000 OEM equivalent.
Wired Remote Control model no. 57-5490 was an optional accessory.
Remote can also be used on VIP1000, VIP2000, 16-301, and 934.54780150 players.
Page Mode entered by simultaneously depressing both 16x visual search buttons.
Year Introduced: 1983
OEM Equivalent: Hitachi VIP2000
Sound: Stereo
Dual Audio: Manual
Outputs: RF & A/V
Remote Control: 6-button Wired
Visual Search: 4xF/R, 16xF/R, 120xF/R
Blanked Search: No
Pause: Yes
Time Display: Analog & Digital
Side Display: Yes
Page Mode: Yes
Page Advance: Yes
Repeat Mode: No
Screen Display: No
Turntable: Direct Drive
Turntable Timing: Quartz
Stylus Sweep: Load
Motorized Load: No
Video Standard: NTSC
Power Source: 120V, 60Hz
Power Consumption: 22W
Dimensions: 16.7" x 4.6" x 16.6"
Weight: 18 lbs.