Realistic 16-301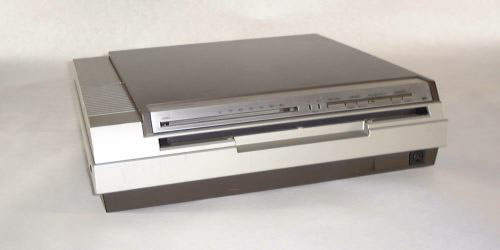 Notes:
Has back-panel jack for optional Hitachi STA300 Stereo/Dual Audio Adapter.
Wired Remote Control model no. Z-6301 was included with the player.
Remote can also be used on VIP1000, VIP2000, 934.54780150, and 934.54800250 players.
This player has several alternate model numbers that may be useful when dealing with RadioShack Parts Supply. These include CED-1, CED 1, 160-0301, and MS-1600301.
Year Introduced: 1981
OEM Equivalent: VIP1000
Sound: Monaural (see Notes)
Dual Audio: No (see Notes)
Outputs: RF & A/V
Remote Control: 6-button Wired
Visual Search: 8xF/R, 60xF/R
Blanked Search: No
Pause: Yes
Time Display: Analog
Side Display: Yes
Page Mode: No
Page Advance: No
Repeat Mode: No
Screen Display: No
Turntable: Direct Drive
Turntable Timing: Quartz
Stylus Sweep: Load
Motorized Load: No
Video Standard: NTSC
Power Source: 120V, 60Hz
Power Consumption: 26W
Dimensions: 16.8" x 4.3" x 16.8"
Weight: 19 lbs.