Previous Image | Next Image | Who's Who Home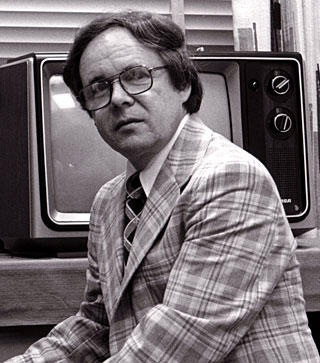 Marvin A. Leedom
Mr. Leedom has been associated with the VideoDisc project for more than twelve years, and during that period he has made significant technical contributions to several elements of this system. His patent record includes one for player electronics, seven for player mechanical design, six for cartridge/stylus design and manufacture, and one for disc replication technology. Four of these fifteen patents apply directly to the introductory system, and Mr. Leedom is credited with the original concept of the caddy, which is an essential component in the VideoDisc system. During the most recent phases of this project, he has made general technical contributions through the management of several technical activities engaged in mechanical and manufacturing technologies.
- 1981 David Sarnoff Award Announcement

Marvin A. Leedom, Director of the Manufacturing Systems Laboratory at RCA Laboratories, earned a BS in Mechanical Engineering from Drexel University in 1957. Since joining RCA Laboratories as a Member of the Technical Staff in 1962, Mr. Leedom has spent most of his effort on the VideoDisc program in the areas of stylus and player design and disc manufacturing. In 1975, Mr. Leedom was named Manager of Mechanical and Instrumentation Technology and, in 1978, Director of the Electromechanical Research Laboratory. In 1980 he was appointed to the position he now holds.

In 1970 he shared an RCA Laboratories Outstanding Achievement Award for contributions to the high-density technology of recording mechanisms. In 1973 he received a second award for a team effort in the conception and development of signal systems and playback mechanisms for high-density recording systems. He and his team received a David Sarnoff Award for Outstanding Technical Achievement, RCA's highest honor, in 1981, "for key contributions to the development of the CED VideoDisc system."

Mr. Leedom has written or presented several technical papers. He holds 24 U.S. patents in the fields of TV design, Electrofax imaging, and VideoDisc player designs. He is a member of the society of Manufacturing Engineers and of Robotics International.
- RCA 1985 Company Biography

In 1999, Marvin Leedom, John Aceti, and others at Sarnoff Corporation received patents for the Songbird disposable hearing aid.

Search for patents issued to Marvin Allan Leedom.

If you have some additional information to supply on Marv Leedom, feel free to submit the form below, so your comments can be added to this page.
---
Send your comments in email via the Contact page
---
Previous Image | Next Image | Who's Who | Memories | CED Magic Home