Previous Image | Next Image | Who's Who Home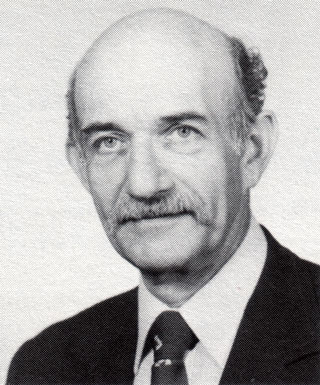 Leonard P. Fox
Leonard P. Fox received B.S. and M.S. degrees in Chemical Engineering from Lehigh University in 1948 and 1949, respectively. He also received an M.S. degree in Physics from Franklin and Marshall College in 1956. Mr. Fox has been an RCA employee since 1949 and worked at RCA facilities in Lancaster, Pa., and Somerville, N.J. He was Manager, Printed Circuit Manufacturing Engineering, for the RCA Government and Commercial Systems organization in Moorestown. N.J., before joining the Technical Staff of RCA Laboratories in 1970. At the present time, he is Head of Applied Process Research, and is responsible for a group doing research in "SelectaVision" VideoDisc processing. In addition to a team engineering award from the RCA Solid State Division in Somerville, Mr. Fox has received an RCA laboratories I from the RCA Solid State Division in Somerville, Mr. Fox has received an RCA laboratories Outstanding Achievement Award in 1970 for "a team effort in devising and improving the processing of storage media for high density recording." Mr. Fox is a member of the American Chemical Society, the Electrochemical Society, the international society for Hybrid Microelectronics, Phi Eta Sigma, and Sigma Pi Sigma. He is listed in Who's Who in Electronics, Who's Who in the East, and American Men and Women in Science.
- RCA 1978 Company Biography

Mr. Fox has been actively engaged in VideoDisc research for approximately ten years and has contributed to various materials developments. His major contribution was to continually champion the non-coated, conductive disc concept - he kept this technology alive through a series of feasibility demonstrations which contributed to its adoption in 1977. In addition, he has made technical contributions to matrix development and to compounding technology.
- 1981 David Sarnoff Award Announcement

"It is very, very rare that one gets to work, as an engineer, on a project from the very beginning and bring it all the way to the point of commercialization. What is more, there was the opportunity to work with top-level research people and top-level management at the same time. It was a dream come true. "
- Len Fox commenting in July 2000 on VideoDisc

See Leonard Fox on slide 448 from Memories of VideoDisc.

Search for patents issued to Leonard Pincus Fox.

If you have some additional information to supply on Len Fox, feel free to submit the form below, so your comments can be added to this page.
---
Send your comments in email via the Contact page
---
Previous Image | Next Image | Who's Who | Memories | CED Magic Home