The Adventures of Robin Hood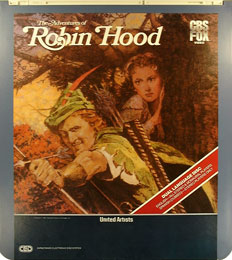 I chose this disc for my first featured CED because it answers several questions people have had concerning RCA VideoDiscs. The featured CED section of CED Magic will periodically be changed to illustrate CED's I find unusual or interesting. This CED has the following interesting aspects:
"The Adventures of Robin Hood" was issued twice in the CED format, first by RCA and later by CBS/Fox. Most VideoDisc owners purchased the disc when RCA offered it, so the CBS/Fox release wasn't issued in large quantities. I'd estimate the RCA version out numbers it by a factor of ten to one.
The red banner states this is a dual language disc- you can listen to it in English or Spanish on stereo VideoDisc players. Not too many CED's have this feature.
The spine visible at the top of the caddy is white, while the caddy itself is blue. The spine is the piece of plastic that encircles the disc and facilitates its transport to and from the player. Normally the caddy and spine are the same color, but sometimes the pressing plant would run short of blue spines, and temporarily use white ones. The blue caddy color was reserved for discs that were stereo or dual audio.
Cast of Characters

Those Lockleys Sure Were An Impudent Bunch
---