Dimensia MCD145 Compact Disc Player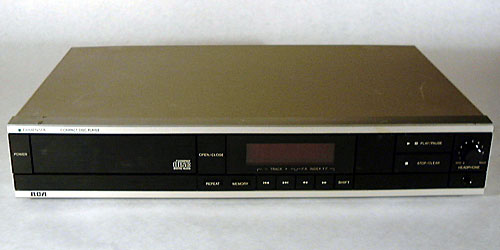 Notes:
This unit replaced the original Dimensia MCD140 CD Player in 1985. The digit buttons are removed from the front panel, but their function is still available on the remote control.
Also in 1985, RCA introduced the Digital Command Component series. The fundamental component of this "RCA Audio System" is the MSR140 Stereo Receiver, which provides system control functionality for audio components only, with no need to purchase a Dimensia television. This Digital Command Component series includes the MCD141 CD Player, which is identical to the MCD145 except for the styling of the unit, and the lack of a headphone jack and headphone volume control on the front panel of the unit.
In 1987 the MCD245 CD Player in the all-black 1987 styling replaced the MCD145.
Specifications:
Number of Audio Channels:
Two
Frequency Response:
5 Hz to 20 KHz +/- 0.5 dB
Signal-to-Noise Ratio:
90 dB
Dynamic Range:
90 dB
Harmonic Distortion:
0.004% (at 1 KHz)
Channel Separation:
90 dB (at 1 KHz)
Wow and Flutter:
Less than measurable limits (+/- 0.001% W peak)
Output Signal Voltage:
2 Volts
Disc Type:
Compact disc digital audio
Playing Time:
Approx. 60 minutes, one side (max. 79.8 minutes)
Diameter:
120 mm (4 3/4 inches, approx.)
Sampling Frequency:
44.1 KHz
Quantization Number:
16-bit linear/channel
Transmission Bit Rate:
4.3218 Mb/second
System Pick-Up:
Object lens drive, optical pick-up
Object Lens Drive:
two-dimensional parallel drive
Optical Source:
Semiconductor laser
Wavelength:
780 nm
Power Source:
120 Volts, 60 Hz
Power Consumption:
23 Watts
Dimensions:
17.1" x 3.2" x 10.9"
Weight:
9.5 lbs.