Hitachi VIP201P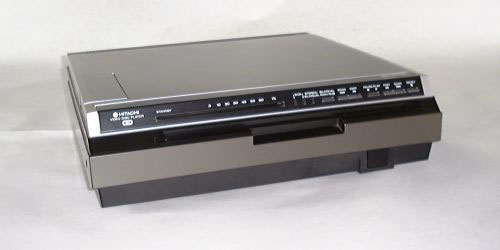 Notes:
Automatically senses Dual Audio Discs and allows channel toggling via front panel or remote.
Infrared Remote Control was included with the player.
The only non-RCA-made player to feature a wireless infrared remote.
Page Mode entered by simultaneously depressing both 16x visual search buttons.
Year Introduced: 1983
OEM Equivalent: N/A
Sound: Stereo
Dual Audio: Auto
Outputs: RF & A/V
Remote Control: 11-button IR
Visual Search: 4xF/R, 16xF/R, 120xF/R
Blanked Search: No
Pause: Yes
Time Display: Analog
Side Display: Yes
Page Mode: Yes
Page Advance: Yes
Repeat Mode: No
Screen Display: No
Turntable: Direct Drive
Turntable Timing: Quartz
Stylus Sweep: Load
Motorized Load: No
Video Standard: PAL
Power Source: 240V, 50Hz
Power Consumption: 20W
Dimensions: 16.7" x 4.6" x 16.6"
Weight: 13 lbs.