RCA SJT400X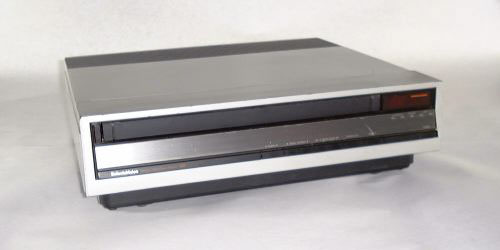 Notes:
This model has some minor internal differences compared to the SJT400.
Infrared Remote Control model no. CRK36A was included with the player.
Digital Command Center model no. CRK32C was an optional accessory.
In-Arm Stylus Sweeper automatically actuates during carrier distress and pause.
May be controlled by external device via Control Jack on back panel.
Automatically senses Dual Audio Discs and allows channel toggling via remote or front panel.
Year Introduced: 1983
OEM Equivalent: N/A
Sound: Stereo
Dual Audio: Auto
Outputs: RF & A/V
Remote Control: 30-button IR
Visual Search: 16xF/R, 120xF/R
Blanked Search: via SEEK button
Pause: Yes
Time Display: Digital
Side Display: Yes
Page Mode: Yes
Page Advance: Yes
Repeat Mode: Yes
Screen Display: Yes
Turntable: Direct Drive
Turntable Timing: Quartz
Stylus Sweep: Load & In-Arm
Motorized Load: Yes
Video Standard: NTSC
Power Source: 120V, 50/60Hz
Power Consumption: 31W
Dimensions: 17.0" x 5.0" x 16.5"
Weight: 21 lbs.