RCA SGT075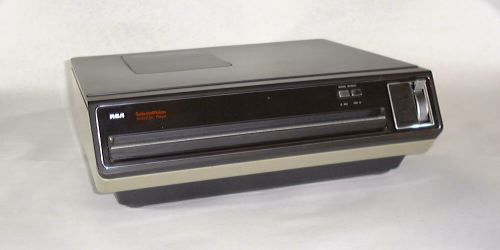 Notes:
A power LED occupies the position of the Side 1 LED present on other F and G models.
The only production CED player that lacks the Pause function and a Time Display.
Undocumented Page Mode entered by simultaneously depressing both visual search buttons.
Year Introduced: 1981
OEM Equivalent: N/A
Sound: Monaural
Dual Audio: No
Outputs: RF
Remote Control: No
Visual Search: 16xF/R
Blanked Search: No
Pause: No
Time Display: No
Side Display: No
Page Mode: Yes
Page Advance: No
Repeat Mode: No
Screen Display: No
Turntable: Belt Driven
Turntable Timing: Line Frequency
Stylus Sweep: Unload
Motorized Load: No
Video Standard: NTSC
Power Source: 120V, 60Hz
Power Consumption: 35W
Dimensions: 17.0" x 5.7" x 15.5"
Weight: 20 lbs.