JC Penney 686-5705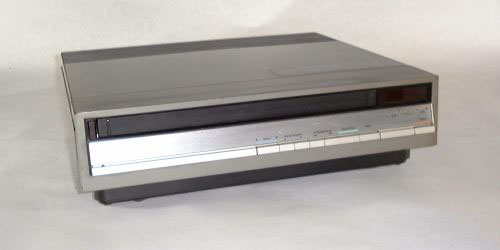 Notes:
Infrared Remote Control model no. CRK34E or CRK34F was included with the player.
In-Arm Stylus Sweeper automatically actuates during carrier distress and pause.
Automatically senses Dual Audio Discs and allows channel toggling via front panel.
Year Introduced: 1983
OEM Equivalent: RCA SJT300
Sound: Stereo
Dual Audio: Auto
Outputs: RF & A/V
Remote Control: 5-button IR
Visual Search: 16xF/R, 120xF/R
Blanked Search: No
Pause: Yes
Time Display: Digital
Side Display: Yes
Page Mode: No
Page Advance: No
Repeat Mode: Yes
Screen Display: No
Turntable: Direct Drive
Turntable Timing: Quartz
Stylus Sweep: Load & In-Arm
Motorized Load: Yes
Video Standard: NTSC
Power Source: 120V, 50/60Hz
Power Consumption: 28W
Dimensions: 17.0" x 5.0" x 16.5"
Weight: 20 lbs.