Previous Image | Next Image | Memories Home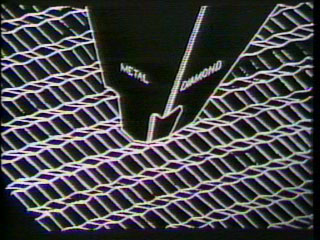 Diamond Stylus Guiding the Titanium Pickup
In the CED VideoDisc system, the diamond stylus itself was not the actual pickup mechanism. The stylus provided support for the conductive titanium pickup.
- Joe Ekaitis

In RCA's earlier prototype VideoDisc system the stylus was made of sapphire with a tantalum electrode. Problems with stylus breakage and short life prompted the change to diamond.
- Tom Howe

If you know something about who or what is shown in the above image, feel free to submit the form below, so your caption and/or comments can be added to this page.
---
Send your comments in email via the Contact page
---
Previous Image | Next Image | RCA Laboratories | Memories | CED Magic Home