Previous Image | Next Image | Memories Home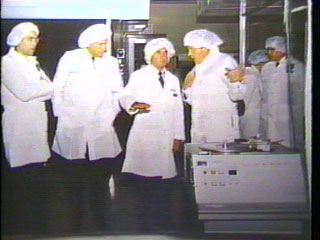 SYAP Bob Frederick Touring the Press Floor
SYAP (Still Yet Another President) - touring Bob Frederick on the press floor.
- anonymous

Robert Frederick (third from left) was chosen RCA president in September 1982, a post he held until the dissolution of the corporation in 1986. Having been a GE vice president in 1982, he was opposed to the later RCA merger with GE but was out-of-the-loop in the final decision. In March 1983 Frederick stated that "under no foreseeable circumstances" would RCA abandone VideoDiscs, but they were abandoned about a year later.

If you know something about who or what is shown in the above image, feel free to submit the form below, so your caption and/or comments can be added to this page.
---
Send your comments in email via the Contact page
---
Previous Image | Next Image | RCA Laboratories | Memories | CED Magic Home