Previous Image | Next Image | Slide Show Index | CED Magic Home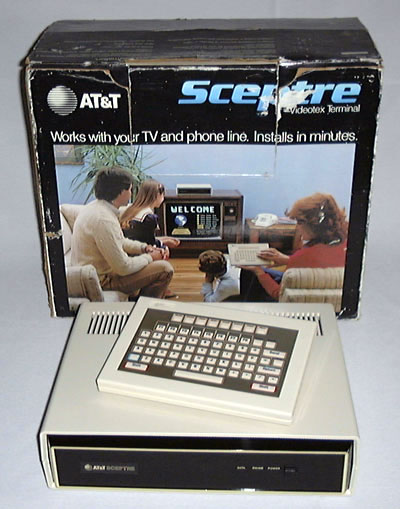 1983: AT&T Sceptre - WebTV in 1983 ?
AT&T introduced their Sceptre videotex terminal in Miami, Florida on October 30, 1983, thirteen years before WebTV was introduced. The Sceptre operated on the same principle as WebTV, i.e. the wireless keyboard-controlled system delivered news, weather, sports, stock reports, banking, shopping, email, and other information via a modem-equipped box attached to an ordinary television. Of course, the graphical web we have today didn't exist in 1983, so this information was all on-screen text called videotex, a term that seems to have dropped out of the English vocabulary.
The Sceptre originally sold for $900 and the monthly fee for the service was $12. From an adoption viewpoint, Sceptre was a dismal failure. The system was marketed in about a dozen cities (including Portland), and the service plan was changed to $39.95 a month including free rental of the box, but nothing seemed to improve the low adoption rate, and Sceptre was withdrawn in 1986. It seems America was not ready for television-based information delivery in the 1980's.
Previous Image | Next Image | Slide Show Index | CED Magic Home