Previous Image | Next Image | Slide Show Index | CED Magic Home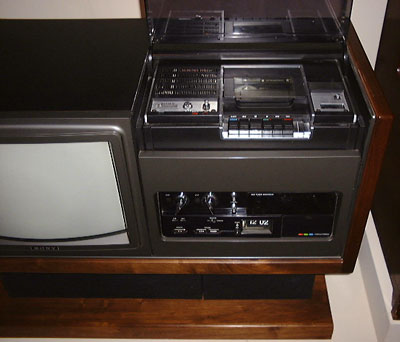 1975: Sony Betamax Combination TV/VCR Released in the U.S.
The first Betamax product released in the United States, the combination LV-1901 TV/VCR floor model, appeared in November 1975 priced at $2295. The one hour Betamax cartridges were considerably smaller than the earlier U-matic cartridges, and the system derived its name from the resemblance of the tape path inside the mechanism to the Greek letter "ß." The LV-1901 contained a 19" color TV and the SL-6300 VCR, which had gone on sale in Japan on May 10, 1975.
Sales of the LV-1901 suffered for the same reason as sales of the earlier Cartrivision system, i.e. the integrated TV meant purchasers either got redundant televisions, or had to dispose of their existing TV. Sony fixed this problem a few months later with the introduction of the stand-alone SL-7200 video cassette recorder. The LV-1901 shown above is on display at the American Museum of the Moving Image along with a lot of other vintage TV and video products.
Previous Image | Next Image | Slide Show Index | CED Magic Home