The Nutcracker (1977 and 1978 Productions)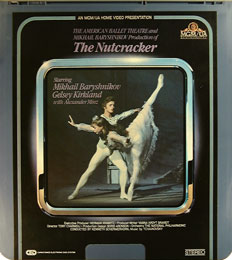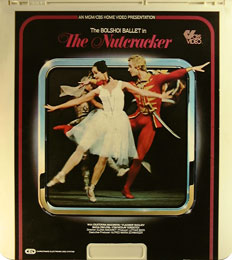 Shown above are the American Ballet Theatre and Bolshoi Ballet productions of the Tchaikovsky classic "The Nutcracker". The closeness of the dates between these two productions has caused some confusion among CED collectors, which is further compounded by one production being entirely Russian, while the other is an American production starring a former Russian performer, Mikhail Baryshnikov. The MGM studio is also associated with both of these, although it's MGM/UA with the 1977 American production, and MGM/CBS with the 1978 Bolshoi Ballet production.
The Bolshoi Ballet production was the first to appear on CED in 1981, and is a filming of what appears to be an actual stage production (the audience is heard but never seen). The American Ballet Theatre production was released in 1982 in stereo, and was a studio production that has become a perennial favorite for rebroadcast in the United States. Deciding which of the two to get is a matter of personal taste. Being studio made, the American version has higher production values, and makes frequent use of the closeup, while the Russian version generally only shows performers from a distance. But I've seen the American one on TV many times, and can't recall ever seeing this Russian production; so it would be more desirable to have available for home screenings, to avoid boring your guests with something they've already seen. The stereo disc from 1982 is the less common of the two versions.
This CED feature is being written during the holiday season, so I've decided to include a list of all the CED's that have content relating to the holidays. A few of those listed may seem inappropriate, but they were derived from the Internet Movie Database's Christmas Genre, which only requires the movie to be loosely related to the holidays.
Children's Treasures Christmas Collection
Christmas Carol, A (1982)
Devil and Daniel Mouse, The (A Cosmic Christmas segment)
Disney Christmas Gift, A
Dot and Santa Claus
Fairy Tale Classics (The Red Shoes segment)
Gospel According to St. Luke, Vol. 1
Little Women
MGM Cartoon Magic, Vol. 1 (The Captain's Christmas segment)
Tales From Muppetland (Emmet Otter's Jug-Band Christmas segment)
Walt Disney Christmas, A
---