Memories of VideoDisc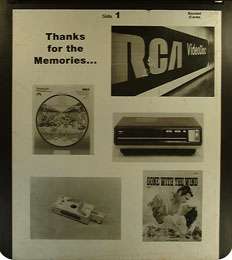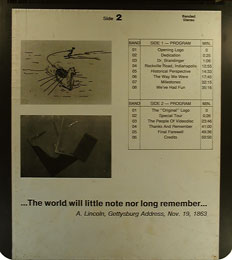 June 27th, 2000 is the 14th anniversary of the end of CED production, and with that in mind, I've chosen the CED title Memories of VideoDisc as the featured CED for Summer 2000. This is among the rarest of CED titles, only being given out to those RCA employees associated with VideoDisc who could still be contacted in June 1986. The contents of the disc deal extensively with life at RCA's Rockville Road pressing plant. This was actually the true final CED title pressed, although The Jewel of the Nile was the last regular production title.
Because this title is so difficult to obtain, and the contents are of considerable interest both to CED collectors and former VideoDisc employees, there is a new interactive section at CED Magic dealing mainly with the contents of this disc. This section is interactive in that it affords viewers the opportunity to leave comments on any of the 535 image pages derived from the disc. The disc itself has no commentary except Dr. Brandinger's introductory presentation, so it's difficult for someone not associated with RCA during the CED era to comment on many of the pictures. One common theme I've heard from former VideoDisc employees is that although the cancellation of the CED system was a major disappointment, those few years spent working on the project were among the most exhilarating of their careers, and they wish there was a way to preserve some of those experiences.
Everyone who knows something about the images is encouraged to leave comments. I'm adding RCA company biographies to some of the images, but I generally only have this information for the research and engineering staff located at RCA Laboratories, so comments for the production staff at Rockville Road are most welcome.
---