SelectaVision Demonstration Programs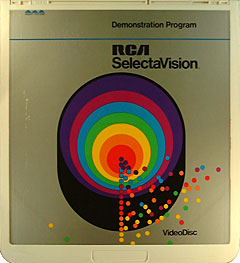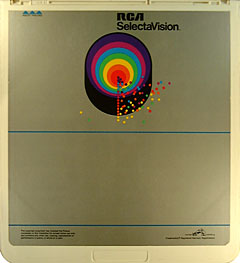 This CED feature covers CED Test Discs which by definition are discs RCA pressed for internal company ownership only, never intending them to be distributed to consumers or even RCA dealers. The contents of these discs could be for laboratory testing purposes, or they could be demonstrations to show off the CED system. Most often, test discs came in unlabeled white, blue, black, or gray caddies. But in 1980, after the production labeling system had been perfected, the discs often came in caddies with the rainbow background label characteristic of the earliest CED titles pressed.
The caddy shown in front and rear photos above predates the production labeling system and has two separate heavy-duty vinyl labels on the front and rear sides. This caddy is completely generic, having nothing printed on it to specifically identify the contents, and it could have contained any of several demonstration programs RCA was showing in the two years prior to the market introduction of the CED system. For instance, RCA released a publicity photo of Dr. Benjamin Spock checking out "Caring for Your Newborn," in this caddy. This CED title was later released in a production labeled caddy.
Test discs most frequently had a code of the format T-xxxx printed on the raised center section of the disc, although RCA used a variety of other coding schemes. Some test discs may even be of movies with a regular production number on the disc. These titles appear on the Test Disc List rather than the CED Title Database because they were never quantity pressed in production-labeled caddies.
This CED feature concentrates on Test Disc T-0761, a demo program the makes the most effective demonstration of the CED system on any disc I have ever seen. The disc contents look incredibly good, probably because RCA took great care in mastering it, primarily from the original one-inch master tapes used to broadcast a number of NBC TV specials in the 1976 to 1980 time frame. The designers of this disc cleverly mixed complete musical numbers from these specials with the celebrity introductions at the beginning of each show which resulted in a imminently watchable disc that also contains a huge number of celebrities. The program is only an hour long (both sides are the same), but I've managed to capture about 150 different celebrities from it, and I still haven't been able to identify all the people. If you know the identity of a person with ??? in the caption, please let me know. Besides the television specials, the T-0761 disc also includes several movie trailers, excerpts from the 1977 Laugh-In revival, and an extended version of the short documentary "Icarus" about hang gliding and sailplane gliding in Australia. The hang gliding portion of this documentary was included on the Service Test and Service Alignment discs to check image and sound quality while servicing CED players.
---
Celebrities on the T-0761 Demonstration Program:
---
Start Points for Program Material on the T-0761 Disc:
---