Previous Image | Next Image | Disc Manufacturing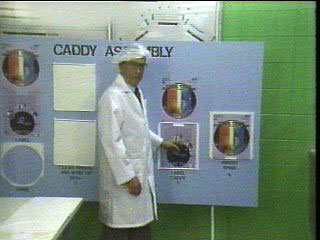 Caddy Assembly
The various pieces the make up the caddy. On the upper left is the single fibrous label sheet glued around both sides of the caddy. Immediately to the right of the label are the two halves of the caddy which are electrowelded together. On the lower left is the spine, which facilitates transfer of the disc to and from the player.

The images on the "A" and "B" sides of the caddy in this picture are from "Star Trek-The Motion Picture."
- Forrest Proctor

If you know something about who or what is shown in the above image, feel free to submit the form below, so your comments can be added to this page.
---
Send your comments in email via the Contact page
---
Previous Image | Next Image | Disc Manufacturing | CED Magic Home