Previous Image | Next Image | Disc Manufacturing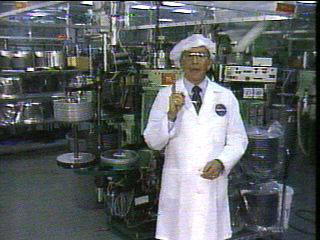 The Press Room
The finished stamper and its companion side are mounted in the press behind the narrator. Each press can produce one disc every 40 seconds.

Well, I can certainly recognize the Swedish built press which was manufactured by Toolex Alpha AB since I was the one who redesigned the piece of junk so that it could meet the high manufacturing requirements for the Video Disc. I can't however recall the gentleman blocking the view of it.
- Marvin Bock

If you know something about who or what is shown in the above image, feel free to submit the form below, so your comments can be added to this page.
---
Send your comments in email via the Contact page
---
Previous Image | Next Image | Disc Manufacturing | CED Magic Home