Previous Image | Next Image | Disc Manufacturing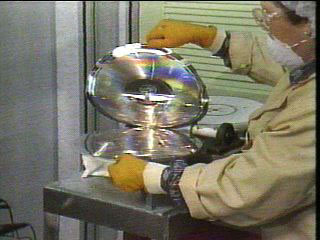 Stamper Being Separated from the Mold
After the electrodeposition process is complete, the stamper is peeled off the mold and mounted in a precision press to punch the center hole.

I am glad to meet you. Our company product is backlight unit for lcd. I hope stamper of light guide panel for injection molding tool. Can I receive technical data for it ? And you have a patent for it ? Thank you !
- bs.Nam

If you know something about who or what is shown in the above image, feel free to submit the form below, so your comments can be added to this page.
---
Send your comments in email via the Contact page
---
Previous Image | Next Image | Disc Manufacturing | CED Magic Home