Previous Image | Next Image | Disc Manufacturing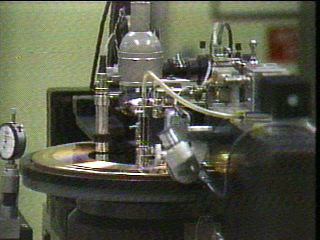 Master Recording Lathe in Operation
The master recording lathe receives a frequency modulated signal from the master control unit in 1/2 real time. The diamond cutter on the lathe vibrates up and down three million times per second as it cuts the groove in the surface of the copper master.

The electromechanical recording lathe shown above was designed and built by Gunter John in Indianapolis. As Jerry Halter perfected his cutterhead on a modified Neumann record lathe, Gunter incorporated an air-bearing spindle and cross-slide to precisely control the translation and rotation of the copper disc into which the groove and modulation were cut. This design permitted RCA to expand capacity and license the technology to CBS.
- James E. Lang

If you know something about who or what is shown in the above image, feel free to submit the form below, so your comments can be added to this page.
---
Send your comments in email via the Contact page
---
Previous Image | Next Image | Disc Manufacturing | CED Magic Home