Last Image | Next Image | Disc Manufacturing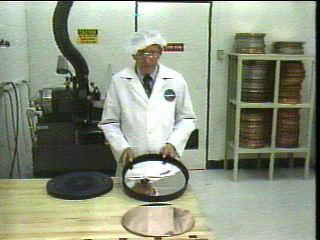 Polished Aluminum Plate and Blank Copper Master
The narrator is holding a polished aluminum plate to which a copper coating is applied into which the actual grooves are cut. A blank copper master can be seen in the foreground.

The device behind the technician looks like it might be a film-transfer machine. The reason I suspect this is that there is a long cooling duct coming out of the top of it. This means that something was being cooled, like a Xenon bulb for motion picture (Theatre) presentation. Or it could be a machine designed to cut the round discs, and the duct is used to quickly remove metal shavings. I would have to see a picture of the machine up close to make a determination.
- Forrest Proctor

If you know something about who or what is shown in the above image, feel free to submit the form below, so your comments can be added to this page.
---
Send your comments in email via the Contact page
---
Next Image | Disc Manufacturing | CED Magic Home