Previous Image | Next Image | Who's Who Home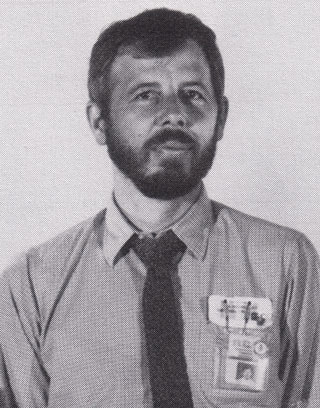 Michael E. Miller
Michael Miller received a BSEE degree in 1960 from Purdue University, Lafayette, Indiana. He joined RCA Corporation in 1961 in the Consumer Electronics Division as an audio transducer design engineer until 1971, when he joined the VideoDisc Advanced Development group. He is currently Manager, Stylus/Cartridge Player Design, the Consumer Electronics Division. Mr. Miller has been awarded nine U.S. patents relating to audio and video disc player design, and is a co-recipient of the David Sarnoff Technical Excellence Award.
- RCA 1981 Company Biography

Mr. Miller has been a technical catalyst in advancing the stylus/cartridge art from feasibility to a production reality. He defined the architecture for the stylus/cartridge and associated mechanism, and he provided the technical guidance and insights to transform those components from the early concepts to production designs. He has eight patents, of which four relate to the VideoDisc system.
- 1981 David Sarnoff Award Announcement

Search for patents issued to Michael E. Miller.

If you have some additional information to supply on Michael Miller, feel free to submit the form below, so your comments can be added to this page.
---
Send your comments in email via the Contact page
---
Previous Image | Next Image | Who's Who | Memories | CED Magic Home