Previous Image | Next Image | Who's Who Home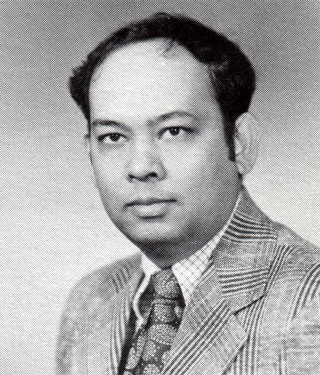 Pabitra Datta
Pabitra Datta received a B.S. degree in Physics and Chemistry from Gauhati University, Assam, India in June 1960, a M.S. degree in Physical Chemistry from Drexel University, Philadelphia, PA in 1962, and a Ph.D. degree in Physical Chemistry from Case-Western Reserve University in 1965. He spent two years of post doctoral work at New York State University at Stony Brook, NY. He joined Addressograph Multigraph Corporation as senior chemist and was promoted to staff scientist within two years. He joined RCA Laboratories as Member of the Technical Staff in 1974. His research interests are surface chemistry, photochemistry, plasma deposition, and physical properties of plastics. He has 15 issued U.S. patents and 12 publications in these areas. He is one of the principal inventors of RCA conductive capacitance discs.

He received three RCA Laboratories' Outstanding Achievement Awards and an RCA Corporation David Sarnoff Award for Outstanding Technical Achievement.
- RCA 1982 Company Biography

Dr. Datta has been involved in the VideoDisc program for about six years, working on surface characterization and control, and compound formulation of the disc. His discovery of the efficacy of a special carbon as a conductive filler led to a practical demonstration of the viability of the conductive disc concept. This breakthrough provided the direction for developing a manufacturable disc technology which is employed in the present product.
- 1981 David Sarnoff Award Announcement

Dr. Pabitra Datta, 55 of New Jersey, USA passed away on Saturday, December 13, 1997 in NJ. He had a coronary thrombosis while playing tennis and was immediately rushed to the hospital. Doctors could not save him despite their best efforts.

Mr. Datta was born in Jorhat, and lived in NJ for the last 23 years. He had obtained his PhD in physical chemistry in 1966 from the Case Institute of Technology in Ohio, US. Dr. Datta worked at the David Sarnoff Research Center. During his 23 years at the firm he received numerous awards from the firm, including the highest award, the David Sarnoff Award for Outstanding Technical Achievement in 1981. At the time of his death he was Senior Member of the Technical Staff of the company.

Dr. Datta was one of the most prolific Assamese scientists having obtained 59 US patents in his lifetime. He has several more patent applications that are pending approval. This achievement alone makes him, perhaps the most prolific Assamese scientist ever. He had published a large number of research papers in various journals and technical conferences. He is survived by his wife Flora, a son Jivan, a daughter Natasha, three brothers Prabin and Parimal both of India, Dr. Punu Datta of Indiana, three sisters, Renu Bhuyan of Nagaon, Minoti Kalita of Maryland and Pronoti Datta of New Jersey.

At the service the most emotional eulogy was paid by his son who described how their father stressed education over everything else and was always present to help his family and colleagues at work. It was a Hindu service in which a few chapters from the Gita were read. Dr. Datta was immensely fond of tennis as well. He had told his son that if he were born in the US - he would definitely have been a John McEnroe. A colleague of Dr. Datta described him as his guru at both work and in life.
- 1998 Eulogy from the Assam Society of America

Search for patents issued to Pabitra Datta.

If you have some additional information to supply on Pab Datta, feel free to submit the form below, so your comments can be added to this page.
---
Send your comments in email via the Contact page
---
Previous Image | Next Image | Who's Who | Memories | CED Magic Home