Treasure Island (1934 and 1950)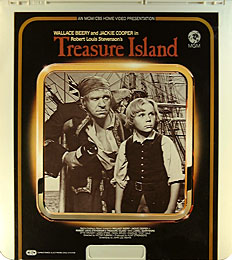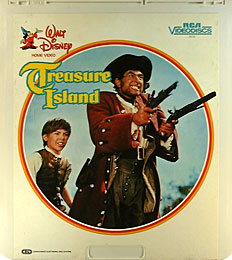 These two CED titles provide a nice contrast in the movie interpretation of Robert Louis Stevenson's classic novel "Treasure Island." The first was filmed in Black & White in 1934 and follows the novel more closely. The second was filmed in color in 1950, and while this version follows the novel less closely, it is probably a better action movie. This 1950 version is also Disney's first live-action production, and is the first full-length Disney title to appear as a featured CED.
The two CED caddy cover illustrations appropriately show Long John Silver (Wallace Beery, Robert Newton) and young Jim Hawkins (Jackie Cooper, Bobby Driscoll) as they are the two characters around whom almost all the action of is centered. The actors behind the Long John Silver and Jim Hawkins also provide interesting contrasts. Wallace Beery and Robert Newton both have the familiar parrot on their shoulders, with Berry playing Silver with a more folksy demeanor than Newton. In the case of Jim Hawkins, Jackie Cooper plays a tougher character than Bobby Driscoll, although Driscoll's performance is probably more realistic for someone suddenly thrust into a pirate adventure.
The careers of Jackie Cooper and Bobby Driscoll provide a stark contrast in what can happen to Hollywood child actors as they mature. Jackie Cooper already had considerable experience when he appeared in "Treasure Island," most notably in The Champ in which three years earlier he was first paired with Wallace Beery. This movie was in 1979 re-made as the CED title The Champ starring John Voight and Ricky Schroder. Jackie Cooper made a smooth transition to adult actor and is still recognizable about 50 years later as hard-nosed newspaperman Perry White in the "Superman" movies.
The story of Bobby Driscoll is entirely different, and is one of the saddest incidents in Hollywood history. Driscoll also had quite a bit of prior experience as a child actor, winning a special Academy Award for juvenile acting a year before "Treasure Island" was released. He went on to provide the voice of Peter Pan in the Disney animated movie of the same name. But after that his acting career was practically over. Although married with three children, In the 1960's he became involved with heavy drugs and soon disappeared from site. His mother eventually persuaded Disney to launch an investigation into his whereabouts. The investigation determined that the body of an unidentified homeless man, found a year earlier in an abandoned New York City tenement and buried in a mass grave on the Hart Island Potter's Field, was that of Bobby Driscoll. He had once been quoted as saying, "They carried me on a satin pillow, then dumped me in the garbage," and that truly turned out to be the case.
---
Treasure Island on Handhelds

Download treasure-island.zip for Windows host computers


Download treasure-island.prc for MacOS host computers (control-click file name)

After download, unzip the Windows file (the Mac file is ready to install as is), and use the handheld computer install program to prepare it for transfer. During the next sync operation the war-worlds.prc file will be placed on your Palm OS, Pocket PC, or Windows CE handheld, and the complete 1883 Robert Louis Stevenson book may be read on the device using a reader application like iSilo.
---